@media (max-width: 1200px) { }.novashare-inline:not(.novashare-columns) .novashare-buttons-wrapper { justify-content: center; }body .novashare-inline:not(.novashare-columns) a.novashare-button, body .novashare-inline .novashare-total-share-count { margin: 0px 0px 0px 0px; }body .novashare-buttons.novashare-inline .novashare-button-icon { width: 100%; }
Tom Jolliffe on the joys of a guilty pleasure comedy…
There comes a time in adulthood when you must stop to ponder the question, 'am I mature yet?' Then you're sat watching Dumb and Dumber. Jeff Daniels shits his guts out after being spiked with laxatives and you almost defecate yourself laughing. The answer is inevitably, no. There are an array of comedies that have more drama and subtlety laced within. Perhaps more grounded observations on society we might find relatable. Maybe tragi-comedy like Sideways (or anything Alexander Payne), that can make a point and even have time to throw in something low brow (Kathy Bates stripping off in About Schmidt springs to mind). There are great comedies, but in general it tends to be a genre that is critically maligned. Some take on a huge cult level, that transcend them to the level of all around must see; think Airplane. Some attain a level of quote-frenzied communal fandom all of their own (think Withnail and I or The Big Lebowski).
Some just aren't funny at all, missing every gag or tiredly punching you in the face with low brow laziness, but no charm. There's a group in the middle. The kind of comedies that appeal to a part of ourselves we might want to keep to ourselves or our closest. This is the guilty pleasure. You may just pull off admitting to watching The Wedding Singer (and indeed one of Adam Sandler's more acclaimed works like Punch Drunk Love or Uncut Gems), but what of Happy Gilmore? I love it, I've always found it uproariously silly and a perfect delivery of everything Sandler can do well. It has survived the PC retrospective microscope better than many of its era in fairness too, as it tends to go for physical comedy and surreal silliness. I re-watched it last year and still guffawed merrily. My brother caught up with it recently, and as he told me, with some surprise, "I'm watching Happy Gilmore and I'm actually laughing…" It didn't surprise me. After decades of Sandler films like Grown Ups, The Waterboy (which doesn't stand muster to the PC revision) and Little Nicky, he was certainly surprised.
That era itself represented a key point for me in fact. It's a time where most of my guilty pleasure comedies exist. In the mid-90's, at school it was entirely expected to like comedies with fart gags, unbridled silliness, crudeness and more. When you're 14 years old you're going to find that stuff funny. When you're getting past 30 and the notion of being young is disappearing behind you, and family/responsibility suddenly gets thrust upon your own shoulders, maybe you're not supposed to find it funny. Sue me, I do.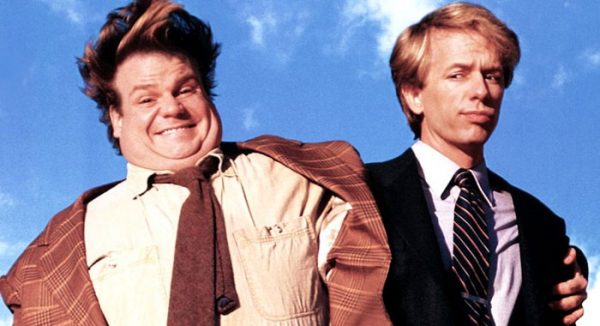 I have a soft spot for anything Chris Farley. He was hilarious. He didn't quite have the pathos that the more subtle John Candy previously had (helped too by great films like Planes, Trains… no guilt at all), but as the bumbling oaf he was dialled right up. He was a firecracker of goofball charm and unpredictability. His inspired cameos might have had the intense and memorable impact that better served him (he steals Billy Madison at a canter), but I still find Tommy Boy and Beverly Hills Ninja hilarious. They were never going to be anything else other than critic kryptonite, but for the Friday night audience, they were inspired. It was the bluster with which Farley threw himself into every scene (especially physical sequences) that really endeared himself to my generation (and beyond as he gets 'rediscovered.'). It wasn't subtle, but sometimes we just want simple humour.
I'm also fond of Guest House Paradiso, the big screen incarnation of Rik Mayall and Ade Edmondson's creation, Bottom. Melding their gruesome twosome with the Fawlty Towers dynamic, it reviled critics and certainly lacked some of the refinement of their series (and live shows). It had the hallmarks of a tired TV to film adaptation, but is one I always find myself giving over too. It's crude, puerile and grim, but even when there's a candle in the eye, or a luminous green vomit outbreak, I end up aching from laughter. Most definitely, a guilty pleasure that one and I can't even fathom why I find it funny.
Jim Carrey might well be a poster child for late 20th century guilty pleasures. He's worked several times with the Farrelly brothers who have an array of films that a few would want cancelled or stricken from record. Dumb and Dumber is still so enjoyable and just surreal enough to get away with gags against the blind etc. It's also pretty iconic too, pushing it to a level of popularity that has been numbed by poor sequels as much as changing attitudes. Me, Myself and Irene on the other hand firmly ensconces itself in guilty pleasure territory. Whereas Shallow Hal has dated completely because it's not funny enough to get us onside, Me, Myself and Irene makes great use of Carrey's physical prowess and has a few inspired gags (the supermarket scene, Carrey being breastfed, etc). This wasn't as iconic as Dumb and Dumber or Something About Mary (which gets by a lot on Ben Stiller's endearing performance and Cameron Diaz's magnetism), but people still enjoy it, even occasionally through closed fingers.
Another film that never got much love from critics but I find gleefully goofy is Hot Rod – the tale of a man-child aspiring to be a great stuntman. Andy Samberg is full of affable dopey charm as the blundering stuntman in waiting. It's amusing without being uproarious, but perhaps my guilt also stems from the main attraction of the film. The soundtrack is great, but not least the fact it includes the entire album, The Final Countdown by Swedish hair rockers, Europe. For me, that's bonus points right there for including such a seminal cheese rock album (titular track aside, including gems like Ninja and Cherokee). Is the film the guilty pleasure, or the album? Probably both, but oh what pleasure (The Final Countdown is currently housed in the CD player of my car).
So what of my most guilty admission? There was just something about MTV comedy, predominantly Pauly Shore. They should have been annoying. To many, they were annoying and/or utterly devoid of wit, but I just find them amusing. Whether it's the atrociously bad Bio-Dome, or some of the better works like Son in Law or Encino Man, I enjoy the Shore shtick from the era. Additionally, I've got a nostalgic soft spot for the finer works of Yahoo Serious. To be fair those works are a little more culty, and not always crude or puerile. They exist in the screwball universe, farcical with lots of silly Oz humour. Young Einstein is particularly fun, where Reckless Kelly and Mr Accident exist as infrequent additions to a very abrupt film CV.
What are your favourite guilty pleasure comedies? Let us know on our social channels @flickeringmyth…
Tom Jolliffe is an award winning screenwriter and passionate cinephile. He has a number of films out on DVD/VOD around the world and several releases due out in 2021/2022, including, Renegades (Lee Majors, Danny Trejo, Michael Pare, Tiny Lister, Patsy Kensit, Ian Ogilvy and Billy Murray), Crackdown, When Darkness Falls and War of The Worlds: The Attack (Vincent Regan). Find more info at the best personal site you'll ever see…https://www.instagram.com/jolliffeproductions/
@media (max-width: 1200px) { }.novashare-inline:not(.novashare-columns) .novashare-buttons-wrapper { justify-content: center; }body .novashare-inline:not(.novashare-columns) a.novashare-button, body .novashare-inline .novashare-total-share-count { margin: 0px 0px 0px 0px; }body .novashare-buttons.novashare-inline .novashare-button-icon { width: 100%; }