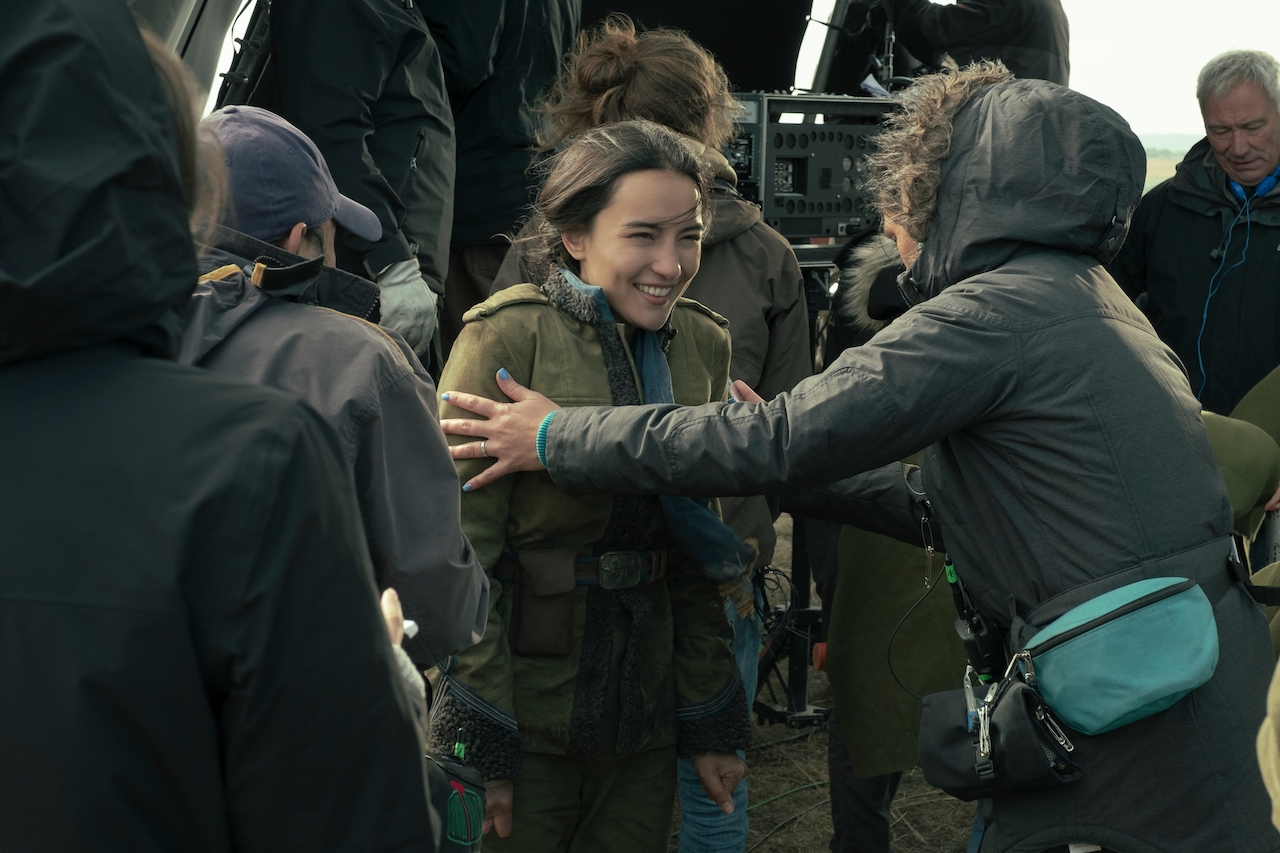 When talking to Li and looking back at her career so far, it's clear just how much the actor's bravery and humanity, focused by a joy of acting and a love for people, has driven her path so far. It wasn't so long ago that Li was studying languages (French and Spanish) at university, unsure of what she wanted to do with the rest of her life, but increasingly sure that it wasn't uni life. "I always loved playing dress up and doing little scenes and puppet shows and things with my brother and friends growing up," says Li, who grew up in Surrey to an English mother and a Chinese-born, Hong Kong-raised father, "but I never really thought of it as something that I could actually do as a job."
It's easy to understand why Li grew up without considering acting as a viable career path. While we're encouraged to think of acting as one of the more egalitarian professions, it exists in an unequal society that privileges certain groups of people above others—and some U.K. actors, like James McAvoy, who do not come from the kind of immense economic privilege as the Benedict Cumberbatches or Tom Hiddlestons of the world, have become increasingly vocal about the class ceiling, while British actors of color, like John Boyega, has spoken about the barriers that exist for BAME actors, even when they've been cast in one of the biggest film franchises in the world.
Li, who doesn't come from an acting family nor from the elite Oxbridge world that churns out a disproportionate amount of the U.K.'s best-known actors, is also multiracial in a majority White industry. She might not have seen a clear path forward for her acting career, but she followed her passion nonetheless. After two years, Li left college before completing her degree and began working as a tutor, a waitress, and then as a teaching assistant. "During that time, I wanted to just do things that I liked doing," says Li. "And one of those things was doing a bit of acting and then slowly over time, I was like, 'Oh, this really makes me happy. I can really express myself doing this.'"
Li's first foray into more formal acting training came in a summer course at the National Youth Theatre, a youth arts charity with a mission of "giving accessible opportunities both onstage and backstage to young people aged 14-25 from all corners of the U.K." Li wasn't intending on auditioning, but when the eldest son from a family she used to babysit for went to audition, the family encouraged Li to go along as well. While at the four-week program, Li learned about the Identity School of Acting, a part-time drama school in London "with a mission to disrupt the industry with a new, diverse generation of talent." In addition to Li, its alums include Boyega, Letitia Wright, Sabrina's Chance Perdomo, and Hanna's Áine Rose Daly. For Li, the experience was as much about the relationships she made there as it was the skills honed.
"It was just so nice to meet people," says Li. "I think that's what really made me want to do these classes. It was to make friends who were like-minded. I've met some real lifelong friends through the National Youth Theater and Identity. So, yeah, it was definitely worthwhile for the relationships I made."
Li might say the same about her experience working on Shadow and Bone, which filmed in Budapest from October 2019 to February 2020. Suzanne Smith, who did the casting for the Netflix adaptation and whose previous work includes Outlander and Good Omens, brought together a cast that is much more representative of the world than the average TV ensemble. Though the production includes veteran actors like Ben Barnes and Zoe Wanamaker, the vast majority of the series' stars are younger newcomers, and they are delightful.