@media (max-width: 1200px) { }.novashare-inline:not(.novashare-columns) .novashare-buttons-wrapper { justify-content: center; }body .novashare-inline:not(.novashare-columns) a.novashare-button, body .novashare-inline .novashare-total-share-count { margin: 0px 0px 0px 0px; }body .novashare-buttons.novashare-inline .novashare-button-icon { width: 100%; }
Tom Jolliffe runs through the career of Mads Mikkelsen, jammed full of mesmerising performances…
Denmark is famous for many things. Two of which are personal favourites of mine…Bacon, and Mads Mikkelsen. Before we start a Bacon war with Canadian readers here, or indeed my fellow Brits, I do jest. Well, not entirely. Mads Mikkelsen really is quite the ace in the pack to have. To most audiences counting English as their first language, Mikkelsen will be know predominantly for two significant breakout parts. To anyone who has seen him beyond, and indeed in his home grown films, he's also known for a swathe of exceptional works, often anchored down by his particularly sterling work.
It was Casino Royale that gave me my first introduction to Mikkelsen. The film itself reignited a franchise in danger of tiredly trying to follow flavour of the month trends. Casino felt fresh and invigorating. Daniel Craig had an auspicious debut as Bond, full of verve and stoic intensity, that he never quite matched after. Yet even so, among the great set pieces (the opening chase is still one of the great set pieces of the 21st century), and nice blend of tradition/revolution, one thing stood out for me among all. Mikkelsen. For one, it marked a clever turn in giving us an intense, dangerous and intellectual foe for Bond, but adding a complexity and a daring twist too. Le Chiffre wasn't an atypical Bond baddie. He was a bad gambler. He was a facilitator. A middle man. Though he had a ruthless element, he was living on the edge, forever a bad card-hand away from being unceremoniously offed by a higher criminal entity (Spectre). He carried himself as more, but he was mid level. Oddjob probably had a better standing in the underworld. Yet, he's deadly. He's a schemer and he's a Bond villain who is most definitely top tier, matched by a select few (like the immensely intense Robert Shaw).
An actor Mikkelsen bought to mind in fact, because of that ability to be cold, yet enigmatic, charismatic yet fiercely intense, was Rutger Hauer. Hauer was always one of my favourite actors, and Mikkelsen has a similar quality. It's in part that dash of Euro-enigma I suppose, especially as Denmark isn't entirely different to the closest neighbours in Western Europe in Germany and Holland. There are cultural crossovers, and in terms of the cinema aesthetic and style not too dissimilar between Nordic cinema and German and Dutch. Mikkelsen, like Hauer, like Stellan Skarsgaard, just has a certain ability to evoke complex emotions through contemplative actions and stoicism. Yet like those, he can explode with mesmerising effect too.
The fact is, no one has come close in the Bond universe to being as interesting, particularly as far as having unique motivations. Javier Bardem was certainly great, but it felt Shakespearean. I love Skyfall, even for its daring deviations from formula. The very personal aspect was different for Bond, though perhaps overridingly familiar (and additionally, Bardem wasn't No Country great). There's often a tendency for European actors (which also extends to Brits) to have your American breakout and stay there. Mikkelsen has indeed flirted in American cinema with roles in films like Rogue One but there's a distinct feeling that he's been underutilised thus far. He's going to be in Indiana Jones 5, as announced recently. Something that felt potentially tired and a little like scraping a barrel, suddenly feels a bit more interesting for having Mads. Again though, he is great in things like Rogue One and Doctor Strange, but as a fan I feel like he deserves a better film around him. Of course, that is most definitely true of Netflix starrer Polar.
In finding myself enthralled by the exceptional talents Mikkelsen possesses, I kept tabs, as well as going retrospectively back to see his charismatic debut in Nicolas Winding Refn's Pusher series. In Pusher he was certainly in good company with Kim Bodnia, before becoming more central in the first sequel. The signs of a star in the making were evident. A captivating command of the screen, and the ability to make exciting, characterful choices. The Hunt is a film tackling a difficult subject with the kind of intensity and gritty approach you'd rarely get in American studio cinema (who might tread eggshells, or drift away from a sense of reality in place of melodrama). His world begins crumbling apart when a naïve lie from a kindergarten student spirals out of hand. It's a gripping film that is powered by subtle direction (from Thomas Vinterberg), interesting character dynamics and one of the best performances of this past decade from Mikkelsen. It's a superb work, as rewarding as it is tough to watch.
Mikkelsen and Vinterberg reteamed last year and the result was another film to grab audiences across the world and prove a critical smash. Another Round sees Mikkelsen as a troubled teacher who's life is already unravelling, further compounded by a drinking experiment which gets inevitably out of control. Again, there's a beautiful balance of introspective work and emotive bursts, often fuelled by the characters inebriated state (and an already infamous 'dance' scene). It's a film that seems disappointingly underrepresented at the Oscars, aside from Vinterberg picking up a nod for direction that you'd call a real outside bet. Still, ample proof that Mikkelsen continues to make strong and interesting work in his homeland, balancing nicely with the Hollywood big paydays (where he always offers some spark).
Riders of Justice sees Mikkelsen doing a Danish equivalent to something out of Liam Neeson's post Taken shtick. There's a difference though. There seems more of a grounded intensity to it, and an interesting character dynamic, with a touch of humour thrown in too. It's seemingly not a genre film formula checklist in the same way as a future Hollywood remake may be (should the film garner enough cult appeal). To an extent too, it's the kind of thriller that they do so well in the Nordic countries. A nice mix of drama, humour, stark visuals and intense performance. Whilst it exists within a simple formula, it's treated with a little more artistic merit (in theory anyway). It does look great, and goes high up on my watch list.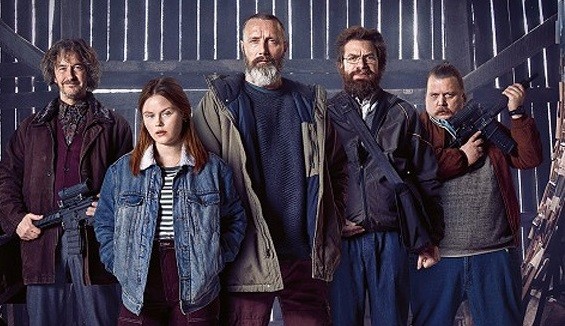 Whilst I await the release of Riders of Justice (eagerly), I'm currently in the midst of running through Hannibal, having finally got round to visiting it (thank you Amazon). I've been amazed by the intensity of the show, the more surreal aspects and definitely the tailoring. Even for me as well, a horror aficionado, this is grotesque at times. There are some hideous post mortem crime scenes on display, whilst Hannibal's expert butchery also gets the hairs on your neck up too. As a character so iconic through film and literature, there's a big weight that comes in playing Lecter. Mikkelsen offers his own unique spin on the character, making him extremely fascinating and totally magnetic. The shows cancellation still leaves fans cloying for more and in the Netflix revival era, who knows. Whether Mikkelsen wants to return is another matter of course.
Going forward we can expect more great work from Mikkelsen. Like Hauer, he probably has the difficulty of being potentially typecast by the American studios, resigned by his own unique intensity, into playing the villain. Undoubtedly though, if given a plum role outside of blockbuster fare, he'd have the gravitas to taken home an Oscar. It will happen one day.
What are your thoughts on Mads Mikkelsen? What's your favourite of his performances? Let us know on our social channels @flickeringmyth…
Tom Jolliffe is an award winning screenwriter and passionate cinephile. He has a number of films out on DVD/VOD around the world and several releases due out in 2021/2022, including, Renegades (Lee Majors, Danny Trejo, Michael Pare, Tiny Lister, Patsy Kensit, Ian Ogilvy and Billy Murray), Crackdown, When Darkness Falls and War of The Worlds: The Attack (Vincent Regan). Find more info at the best personal site you'll ever see…https://www.instagram.com/jolliffeproductions/
@media (max-width: 1200px) { }.novashare-inline:not(.novashare-columns) .novashare-buttons-wrapper { justify-content: center; }body .novashare-inline:not(.novashare-columns) a.novashare-button, body .novashare-inline .novashare-total-share-count { margin: 0px 0px 0px 0px; }body .novashare-buttons.novashare-inline .novashare-button-icon { width: 100%; }