Viewers who know Eleanor Tomlinson best from her role as Demelza in the BBC's Poldark will enjoy seeing another side to the actress's talents. Despite her abiding fondness for the hugely popular Sunday-night saga, she's thrilled with the opportunity to act in a series she describes as "a breath of fresh air". "I wanted to be very, very different in it. I didn't want to be red-headed…I think we've seen that before!", she tells us, tongue firmly in cheek. Petticoats and stays are out; prosthetics – scaled back, to her relief, after the original design became a bit too restrictive – are in. Tomlinson laughingly describes her character's wild-child qualities. "She's a bit mad! She's a bit bonkers…"
She feels that alien Candy, a drug mule paying off a debt to Tula, is someone we'll come to empathise with. "She's a bit irritating, and she's kind of misunderstood. But I quite like that. She's not the goody-goody, she's trying to better herself, so I think in the end, you do root for her." Tomlinson's recent forays into sci-fi, including the BBC's 2019 adaptation of The War of the Worlds and HBO's The Nevers, have allowed her to stretch herself creatively, and Intergalactic's unique tone made for a refreshing change after heavier fare. "I think it's kind of a dark comedy, weirdly, but it's basically this group of kick-arse women who are not conformist. It's just very current and modern, and it's nice to see that on primetime television."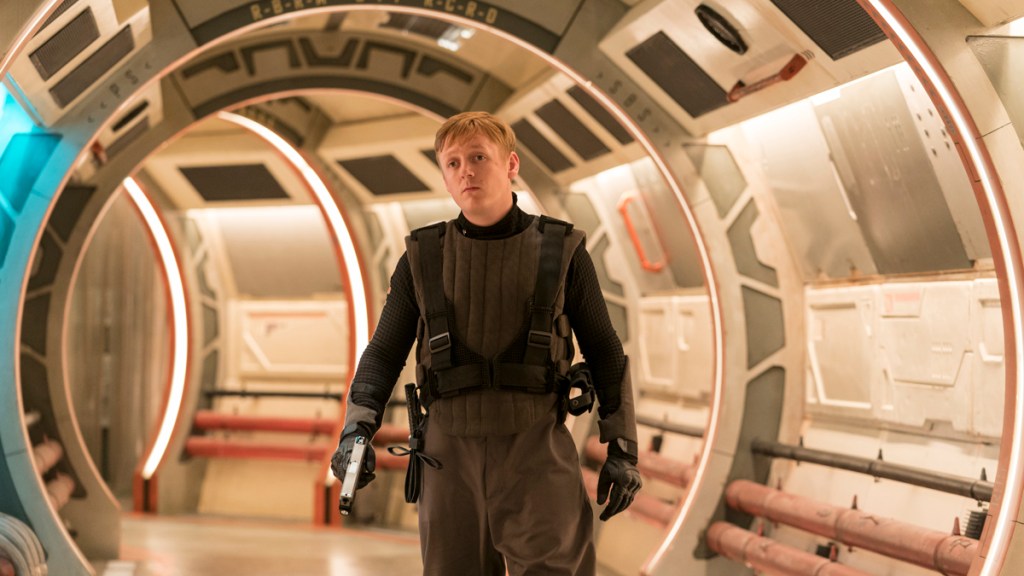 Duncan-Brewster offers another explanation for why an escapist sci-fi show is so right for the current moment. "We are all still looking for some sort of answer, some sort of relief or magic wand that will make the world better, deep down. It offers hope in some way, I think, when you see a world that exists however many hundreds of years away from where we are now." Utopia might be as far from their reach as it is ours, but they're still trying to get there – and that, in itself, is a point of light in a dark galaxy.
And if all else fails, as 2020 taught us, sometimes happiness lies in small pleasures. Turgoose's recipe for an ideal society? "Nando's," he tells us, to a roar of laughter from his castmates. "Everyone should be entitled to Nando's."
Intergalactic airs on Sky One and all eight episodes will be available to stream on NOW from Friday the 30th of April.